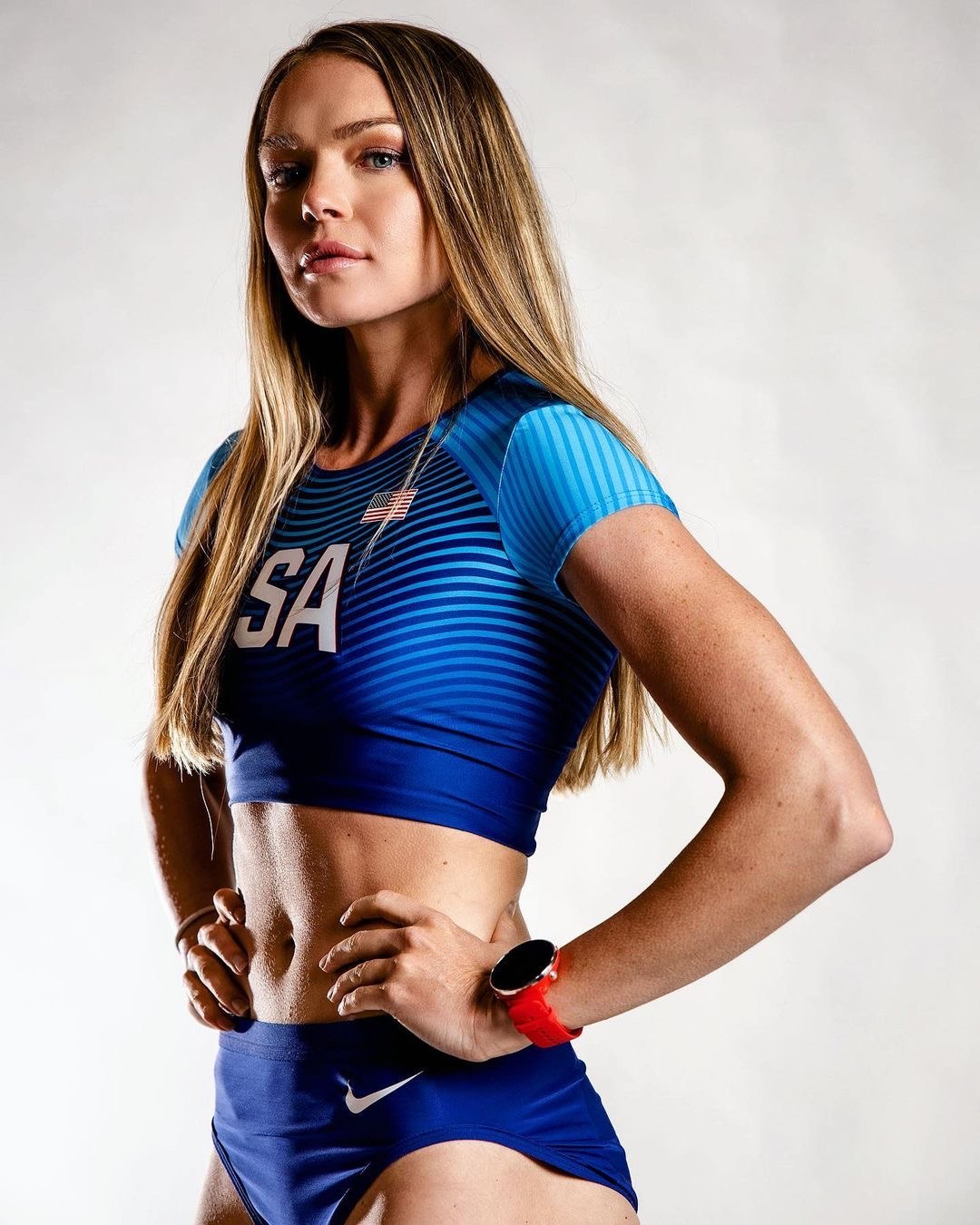 Five-time All-American. 2016 USA Indoor bronze medalist. 2018 Outdoor British champion. San Diego-based Chari Hawkins has plenty of accolades to her name, but the Team USA heptathlete continues to focus on one thing: realizing her true potential.
Having competed with severe performance anxiety for eight years, Chari is dedicated to removing the shame associated with anxiety, while promoting open discussion about mental health. And when she hit rock bottom – failing to qualify for the Tokyo Olympics – it was the hard work she put in to her mental health that helped her climb out of her "well of sadness".
We caught up with the PROMiXX ambassador to talk heptathlon, her long journey to good mental health, nutrition, and more.
"Talking about mental health allows people to realize there's nothing wrong with them, faster."
- Chari Hawkins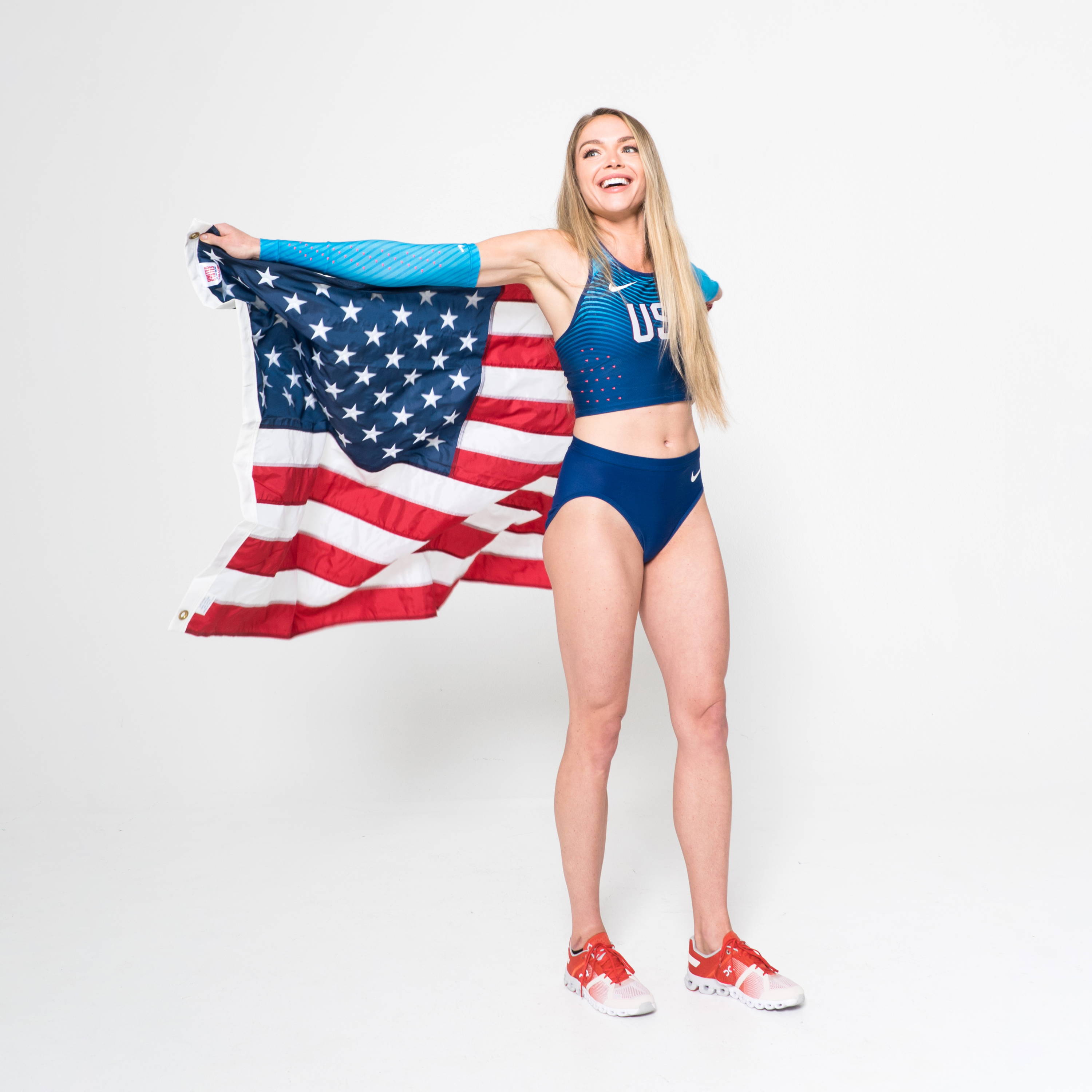 Can you tell us how you got started in track and field?
I'm the youngest of five children, and we're a sports-heavy family. But I was the first person to do track and field – I liked the individuality of it. I actually used to hate running with a burning passion – when I was in seventh grade my friends asked if I wanted to join the cross country team, and I was like, "No, absolutely not, no, no, no, no." In true pre-teen fashion, I just had FOMO every time they went to cross country, so when track rolled around I said, "Ugh, I'll do it." I quickly learned that there were more events than just running, so right away I did jumping, and eventually I fell in love with multiple events.
When did you start training in heptathlon?
I didn't do the heptathlon until college – when I was 19. In high school in the US, you can only do four events at a meet. I chose long jump, high jump, the hurdles and then I'd be on a relay. It made sense to become a heptathlete because of those events.
"I tried to tear my own Achilles at a meet, because I just didn't want to do it anymore."
How did you find the transition?
The first time I ever did the 800 meters I well underestimated how difficult it was going to be, and how horrible it was going to feel. But with javelin and shot put, they've been some of the most fun events. Shot put has been so fun to work on, because starting off brand new with something, you're really bad at it, and so every little improvement is an improvement. At some point you start to level off, but for the most part it was so much fun to learn new events, be the person who had a lot of catching up to do, because you feel like you're getting so much better, so much faster.
What do you feel like your biggest challenge with the heptathlon was starting out, compared to now?
I suffered from a lot of performance anxiety, it would start a week before a competition. I was sick a lot from nerves, my heart was pounding, and I just hated my life for that week. I can't imagine agreeing ahead of time to be fully sick, hating it and being in a horrible state for a full week, but I did that for years. I tried to tear my own Achilles at a meet because I just didn't want to do it any more. It's crazy because athletes get injured and they spiral into depression, but my anxiety was such a loud monster that that's what it was telling me to do. I haven't had a panic attack for a competition since early-2019 – I consider that a huge win, it makes my sport so much more fun.
Now, the challenge is staying focused for the entirety of the event. Every circumstance is so different and making sure you're still focused, not getting caught up in the moment or how you're doing, good or bad, that's the thing that I'm currently working on now.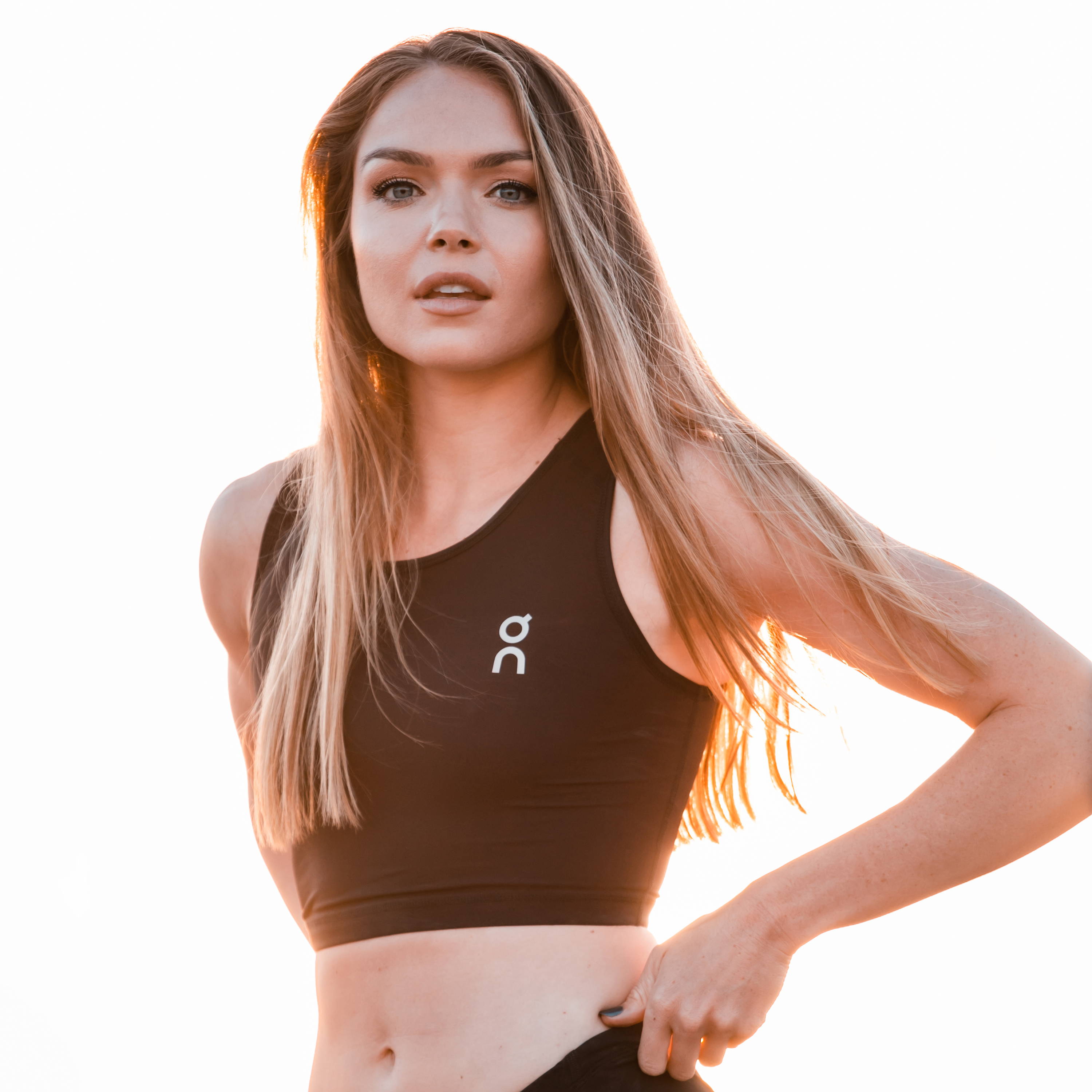 "Figuring out that my performance didn't dictate who I was as a person was mind-blowing."
How did you manage to address your anxiety?
I had such a bad panic attack at Indoor Nationals that my whole body seized up. I pulled a hamstring and I ended up not being able to finish the meet. Your reward in the heptathlon is finishing, even if you didn't do your best. It wasn't the injury that caused me to stop, it was my anxiety attack that caused the injury. I was so ashamed, and I promised myself I would never have that experience again – I was fed up and sick of the feeling. So it became my mission to work on myself and to do mental training sessions – to ask questions and dive in to what the issue was. 
A lot of the time society tells you, "Good job, you're amazing" when you do well, and when you don't do well, it just ignores you – you don't exist. That was so embedded in my subconscious – being able to figure out that my performance didn't dictate who I was as a person, and bring it to the conscious mind was mind-blowing. Unfortunately, consciousness doesn't solve it, so I had to go and do the work.
A lot of the time people don't talk about their mental health, they assume that it's them, that there's something wrong with them. Sometimes it takes a lot of suffering to realize that there's actually nothing wrong with you. Talking about mental health, it allows people to get there much faster, they don't have to do that decade of suffering. And that's why I always love talking about anxiety, because I would love to take some time off somebody else's suffering. I can't always solve their suffering, but I would love to catalyze their own healing.
"Talking about mental health allows people to realize there's nothing wrong with them, faster."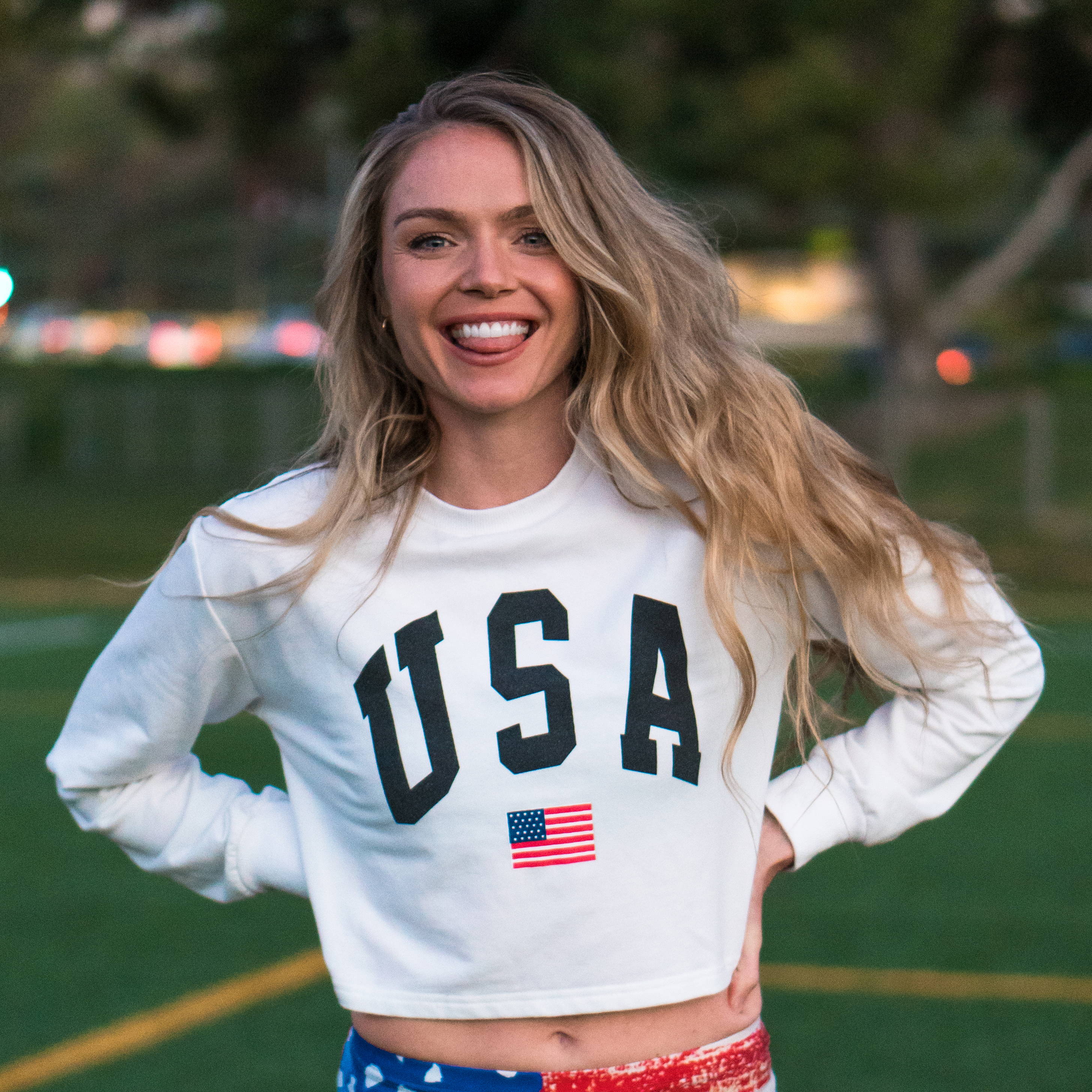 What tips do you have for people looking to improve their mental health?
There are three steps for me. First, let yourself feel your feelings, understanding that feelings are fleeting. Name your feeling – whether it's sad, or disappointed, or ashamed – and say, "But I know this isn't forever." The second thing, is positive self-talk. That's the biggest tool for me to getting better – pretending you're awesome, even if you don't believe you're awesome. Eventually you're going to remember that, yeah, you are awesome. And my third tip is continuing to put one foot in front of the other, trusting that you're on your way.
Do you meditate?
Absolutely. Sometimes it'll be when I get out of my car and I get ready to go to practice. I feel my breathing, I acknowledge where I am, what I'm doing, and I set an intention and then I go. It doesn't always have to be a 10-minute mediation session. Sometimes it's longer, sometimes it's shorter.
How do you eat to make sure you're performing at your best?
Nutrition was something I had to learn. The biggest thing that my coach has always talked to me about is the 80/20 rule. 80% of the time making sure I'm having balanced food and the right nutrition to recover: the right amount of protein, the right amount of fats, the right amount of everything I might need. And then 20% of the time allowing yourself to live a life. At the end of the day, when we do 100% of everything, that's how we start getting mixed up in "this is who I am and if I don't do well I'm not good". Keeping perspective is really important. That 80 is keeping us healthy, that 20 is keeping us sane.
Join the millions of people worldwide who receive our tips and exclusive deals that help you reach peak performance every day.
---